We're still trying to wrap our heads around this whole Aaron Hernandez situation.
By now there's no way that you haven't heard about the former New England Patriots' TE being arrested for the murder of Odin Lloyd. However, it seems that everyday there's a new twist in the story. Whether it's photos of Hernandez with a handgun or that investigators believe that Hernandez killed Lloyd because he had information on Hernandez's involvement with a double homicide that occurred in 2012. And, in an even more strange and disturbing development, Hernandez's jerseys are selling big time on auction sites like eBay.
The thing is Hernandez isn't the only athlete that's proven to be a rotten apple. No matter how much their peers or sports analysts try to defend the actions of infamous athletes like Hernandez, such as hanging out with the wrong crowd, sometimes people are just nasty.
Whether it involves affairs, drugs, gambling or something horrific like murder, throughout the years there have been a lot of athletes who tarnished their reputations by their off-the-field antics. And, unfortunately, it looks like Aaron Hernandez will be now joining this list of infamous athletes.
10. Pete Rose
Compared to most of the other members on this list, Pete Rose's actions seem rather mild. However, the all-time hits leader has become the topic for one of the most heated discussions in baseball history. Should 'Charlie Hustle' be inducted into the Hall of Fame? As you'll recall, Rose was kicked out of the game 1989 after it was discovered the he was betting on baseball. Despite an appeal, Rose has yet to be reinstated. And, as long as Bud Selig is commissioner, it's most likely going to stay that way.
9. Ugueth Urbina
Juan Urbina/Twitter
During the 2005 offseason, relief pitcher Ugueth Urbina returned to his home in Venezuela and decided to get medieval on some people. The two-time All-Star believed that a group of farm workers stole a gun, so he went after them with a machete. Oh yeah. He also tried to set them on fire after pouring gasoline on them. He was sentenced to 14 years for attempted murder in 2007, but was released on December 24, 2012 after serving just five years and nine months.
8. Mike Danton
[youtube]http://www.youtube.com/watch?v=KeeY2OJ5wOo[/youtube]
In a way, you can't blame Mike Danton for his actions. Back in 2004, the former NHL player attempted to hire a hitman to take out his agent David Frost, who was also Danton's junior hockey coach. There was a long and twisted relationship between the two, such as Frost sexually abusing Danton's younger brother. However, the plot failed and Danton was sentenced to seven and a half years in a United States federal prison on July 16, 2004. He was granted parole on September 11, 2009 and is trying to make a comeback in Sweden.
7. Oscar Pistorius
On February 14, 2013, Reeva Steenkamp, the girlfriend of South African sprinter Oscar 'Blade Runner' Pistorius was shot and killed. Police immediately took Pistorius into custody and charged him with Steenkamp's murder the following day. Investigators claim that the shooting was premeditated, while Pistorius claims he was firing at an intruder. The trial is set to begin on August 19, 2013. Until then, Pistorius has returned to training.
6. Michael Vick
Michael Vick was one of the most polarizing players in the NFL until allegations of dogfighting surfaced in 2007. After an investigation, Vick was convicted of felony conspiracy in interstate commerce/aid of unlawful animal fighting venture and sentenced to 23 months in prison and three years probation following release. He was released on July 20, 2009 and signed with the Philadelphia Eagles in 2009 after being cut by the Atlanta Falcons. Besides the dogfighting conviction, Vick has had some problems with the law regarding marijuana.
5. Mark Rogowski
[youtube]http://www.youtube.com/watch?v=vA8xLe7MxWo[/youtube]
The name may not be a household name, but Mark Rogowski was a skateboarding legend that was known as "The Gator". Instead of being remembered for his skills, many now remember Rogowski for a demented act of revenge against his ex-girlfriend, Brandi McClain. After the couple split, McClain's friend, Jessica Bergsten, asked Rogowski for a tour of his native San Diego, which he did. Afterwards, he took Bergsten back to his apartment where he raped, beat, and killed her. This low-life has been in prison since '92 while serving a 31-year sentence. He's up for parole in 2018.
4. Mike Tyson
"Iron Mike" was on his way to becoming one of the greatest, and most popular, athletes of all time until a string of troubling occurrences changed all that. First up was the end of his marriage to actress Robin Givens after allegations of spousal abuse and mental instability. Then, in July of 1991, he was arrested for the rape of Desiree Washington, Miss Black Rhode Island. He was sentenced to six years in prison but was released after three. His problems continued after biting off a piece of Evander Holyfield's ear in their 1996 match and getting arrested again in 2006 for DUI and cocaine possession.
3. Rae Carruth
[youtube]http://www.youtube.com/watch?v=mhnvB4KJbo4[/youtube]
After getting drafted by the Carolina Panthers in 1997, wide receiver Rae Carruth was supposed to have a promising career. Then, he decided that he didn't want to pay child support and ruined the lives of a number of people. After leaving a movie theater, Carruth's pregnant girlfriend was stopped by another car and fired on. She held on just enough to inform first responders that Rae shot her. Doctors performed an emergency Caesarean section and saved the life of one of the twins. However, the shooting resulted in oxygen loss and the child has severe physical and mental disabilities. Carruth paid his bail, fled the state and was quickly found. He's currently serving an 18 to 24-year sentence for conspiracy to commit murder, shooting into an occupied vehicle, and using an instrument to destroy an unborn child.
2. Eddie Johnson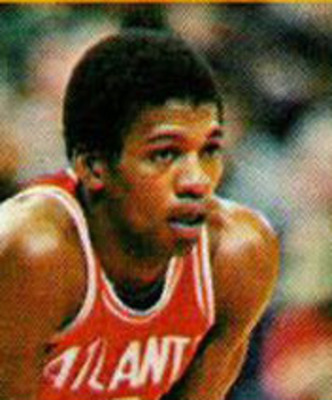 Bleacher Report
"Fast Eddie" had his fair share of legal problems while playing with the Atlanta Hawks from 1977–1987, and he's currently paying for being such a scumbag. Johnson was kicked out of the NBA for life in 1987 after numerous suspensions and a cocaine addiction. After his lifetime ban, Johnson had no less than 100 arrests and five stints in and out of the Florida prison system. But, he went too far in 2006. While awaiting trial on charges of raping another woman, Johnson was arrested for burglary and sexual battery and molestation of an 8-year-old girl. Thankfully, he's serving multiple life sentences.
1. O.J. Simpson
[youtube]http://www.youtube.com/watch?v=aZPkrurlMa8[/youtube]
"The Juice" was one of the most popular, and greatest, football players of all time. He won the Heisman Trophy, was inducted into the NFL Hall of Fame, and is the only running back to run for 2,000 yards in a 14-game season. Following a legendary career, he was seen on Monday Night Football and NBC as a commentator and as an actor in the hysterical The Naked Gun series. June 12, 1994, his legacy was forever changed.
Following the double homicide of his estranged wife, Nicole Brown, and acquaintance Rod Goldman, the trial of the century began. After a year-long trial, O.J. was acquitted and spent the next couple of years looking for the real killer and playing lots of golf. And, he's continued to get himself into trouble. He faced a tax lien in 1999, had some speeding violations, pirated DirecTV, and then tried to steal back some of his memorabilia in 2007. That last incident in Las Vegas landed "The Juice" in jail for 33 years for robbery, kidnapping, domestic violence, coercion, and conspiracy.
Images Via Wikipedia Unless Otherwise Noted